U.S. Army veterans Robert Beamon and Stan Sudduth forged a bond 20 years ago that remains strong as union members in AFSCME Local 391 (State Corrections).
They have stayed side by side through military deployment to becoming correctional officers to serving as union leaders.
Beamon, Local 391 vice president, and Sudduth, an executive board member, met in the Army in 2000 through the military police in Hartford.
Sudduth and Beamon said they met after their unit left Hartford without them for military base Camp Nett in Niantic.
Without a clue how to get there, they helped each other navigate their way south and started talking. They discovered that they had attended the same U.S. Marine Corps bootcamp six years prior in Paris Island, South Carolina.
This incident and their shared background in the Marines helped establish their initial connection.
"We have been friends ever since," Beamon said.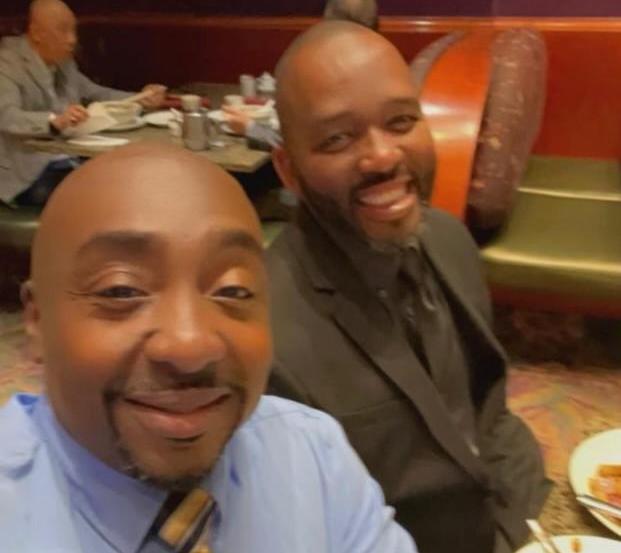 L-R: Robert Beamon, Local 391 vice president, and Stan Sudduth, executive board member, at Foxwoods Casino during the CT AFL-CIO Political Convention in June 2022. 
Their Army unit, Unit 134 out of Norwich, was deployed to Mosul, Iraq in 2006 as part of the U.S. response to the Sept. 11 terrorist attacks.
For 18 months, they served in different squads within the same platoon, and even lived as roommates while deployed.
"It was a long time to spend with somebody day in and day out, but I can truly say that deployment solidified our friendship," Beamon said. "We leaned on each other through some hard stuff and made it home together."
Being away from home was hard on Beamon and Sudduth, both of whom had young families. Sudduth was with his infant daughter for only two months before leaving.
"Most people, when you talk about brothers, it comes through blood, but ours comes through a fire, through trials and tribulations," Sudduth said. "We were in the same squad taking on enemy fire. We had to make decisions – not just based on his and my life, but the whole squad. It was a lot."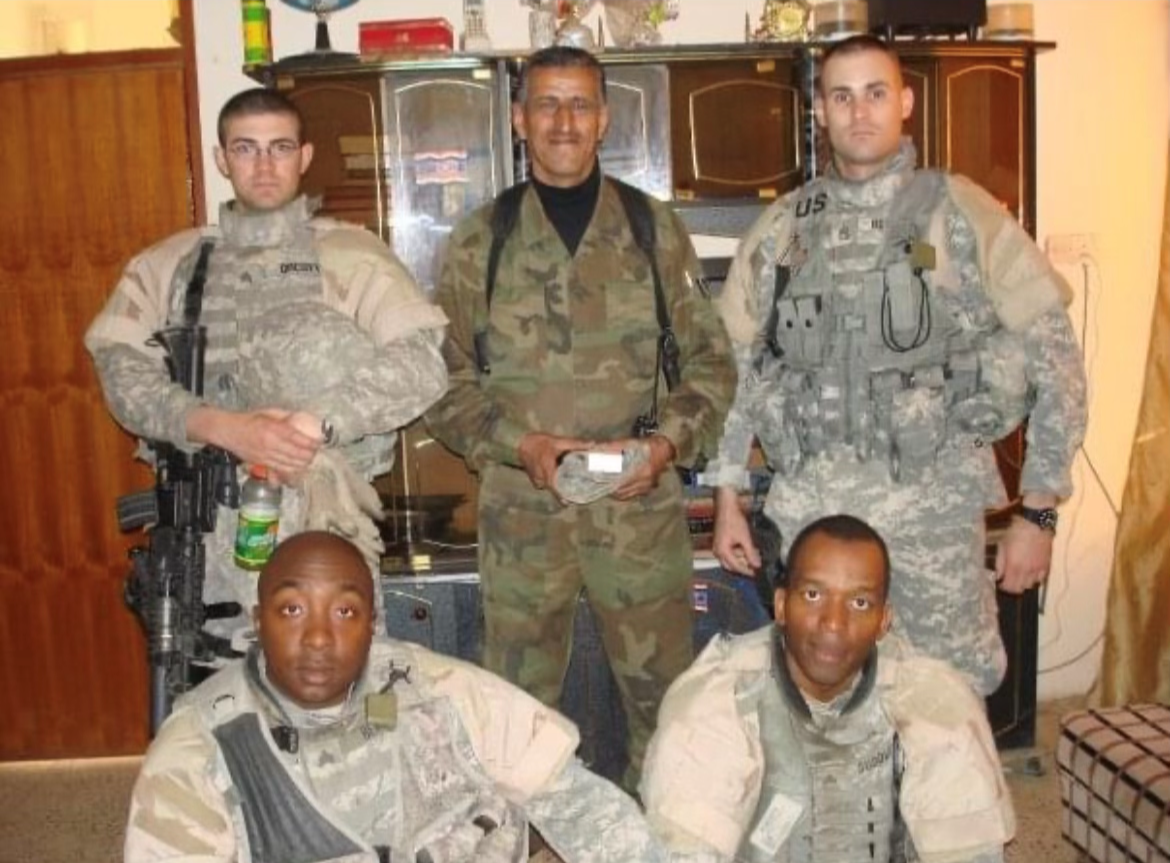 Clockwise: Sgt. Sean Orcutt, Iraqi Solider, Ssgt Ulric Burbue, Sgt Sudduth, and Sgt. Beamon in Mosul, Iraq. 
The pair were joined at the hip and sometimes people would mistake one for the other or call them by the wrong name. Other times, higher ranking officials would interrogate one when the other was missing.
"'Where is Sgt. Beamon?' they would ask," Sudduth said. "And I'm like, 'I don't know.' Half of the time I did, but he didn't need to know that. We cover for each other, always."
When it came to their careers and eventually joining the union, Beamon and Sudduth continued to move jointly lock in step.
In June 2005, they joined the state Department of Corrections. Each component of that process they shared — from studying to taking the aptitude and physical test to keeping each other in physical shape and being in Connecticut Correctional Academy together.
While going through the academy, they maintained their military careers, swapping uniforms when they went to Army drills.
Both were promoted to sergeant at the same time and retired from the Army in 2018 and 2019 as E-6 staff sergeants.
After graduating from the academy, Beamon worked as a correctional officer at Garner Correctional Institution in Newtown and Sudduth was hired at Carl-Robinson in Enfield.
In 2014, Beamon made a run for state Senate in the 2nd District (Hartford, Bloomfield, Windsor).
Being in the political arena, he encountered attacks made on public employees and to the retirement and health care benefits hard won by unions. That experience prompted him to be more involved in protecting worker benefits.
"I made it my business to learn everything about the union there," Beamon said. "Not only did I stay with it, but I love sticking up for the little guy through a united front."
After seven years serving at Garner, Beamon transferred to join Sudduth at Carl-Robinson. He continued his union involvement, working his way from a steward to vice president.
He made is his mission to get Studduth involved, too.
"When I was retiring from with the military, I was looking for that sense of purpose," Sudduth explained. "He [Beamon] told me about the union. You need people willing to step up and not be afraid. That was one of the parts that drew me in."
This year, Sudduth retired as a correctional officer. His term with the executive board ends in the spring.
What he will miss the most from serving is the camaraderie and respect union leaders have for each another, and what he describes as "completing the mission."
"Our job is to protect our members and support them in any way we can," Sudduth said. "We protect their rights and their interests. Almost like a superhero, you don't usually get a thank-you, but you don't need to say thank you because we do it because we love it."
Sudduth currently is employed as a mental health worker at Mount Sinai Rehabilitation Hospital in Hartford and expects to support Beamon during his retirement from state service into a new career.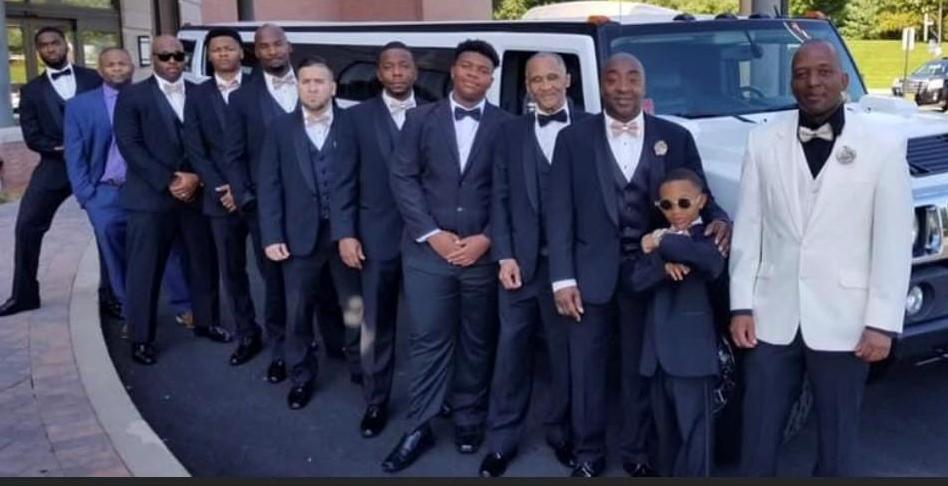 First from right: Stan Sudduth on his wedding day in 2019 surrounded by his groomsmen. Robert Beamon (third from right) served as his best man. 

With two degrees and a graduate certificate in contract law from Harvard University, Beamon would like to continue working in the labor movement.
Like Studduth, he also carries purpose and pride for helping others, just like they did in the military.
"In combat, we learned how to be there for each other and do the right thing," Beamon said. "Those are some of the things that draw me into unionism itself and the fight for labor rights.
Just like in the Marines, it's always a battle, he said.
"Sometimes there's insurmountable odds against us," he said, "but when you have great people willing to do the right thing and stand with each other united, we can accomplish great things and we can do the same thing in a union."
"That's why I love this work," he said.