New Britain, CT - Frontline American Red Cross (ARC) employees in Connecticut represented by Local 3145 of AFSCME Council 4 rallied to demand a fair contract as they resume negotiations this week. The 160-member bargaining unit encompasses jobs including blood technicians, nurses, laboratory staff, and blood transportation workers.
Monday's event, held at Council 4 in New Britain, was part of a national day of action by unions representing Red Cross workers in multiple cities across the country. The national union coalition representing Red Cross workers called for these actions in response to management's proposal to roll back health care benefits for thousands of employees across the country, and their unwillingness to negotiate a fair contract that addresses unsafe working conditions, including dangerous understaffing.
The workers say these conditions significantly contribute to the nation's blood shortage crisis, because Red Cross's treatment of workers makes it difficult to retain trained, dedicated staff.
Joseph Tine, AFSCME Local 3145 president, highlighted the need to protect their health care benefits.
"We are fighting to preserve employee health care that is comprehensive and affordable, and in keeping with the lifesaving mission of the Red Cross," he said. "As many of us here know, good health care is one of the main factors keeping us working at Red Cross, as opposed to elsewhere."
Tine recalled the challenges ARC employees endured throughout the pandemic to ensure the nation's blood supply was safe and available to keep people alive.
"We experienced disinformation at the start of the pandemic and struggled to get adequate PPE. Many of us quarantined on our own time, after work exposures, and an unlucky few did so without knowing if they would be receiving pay."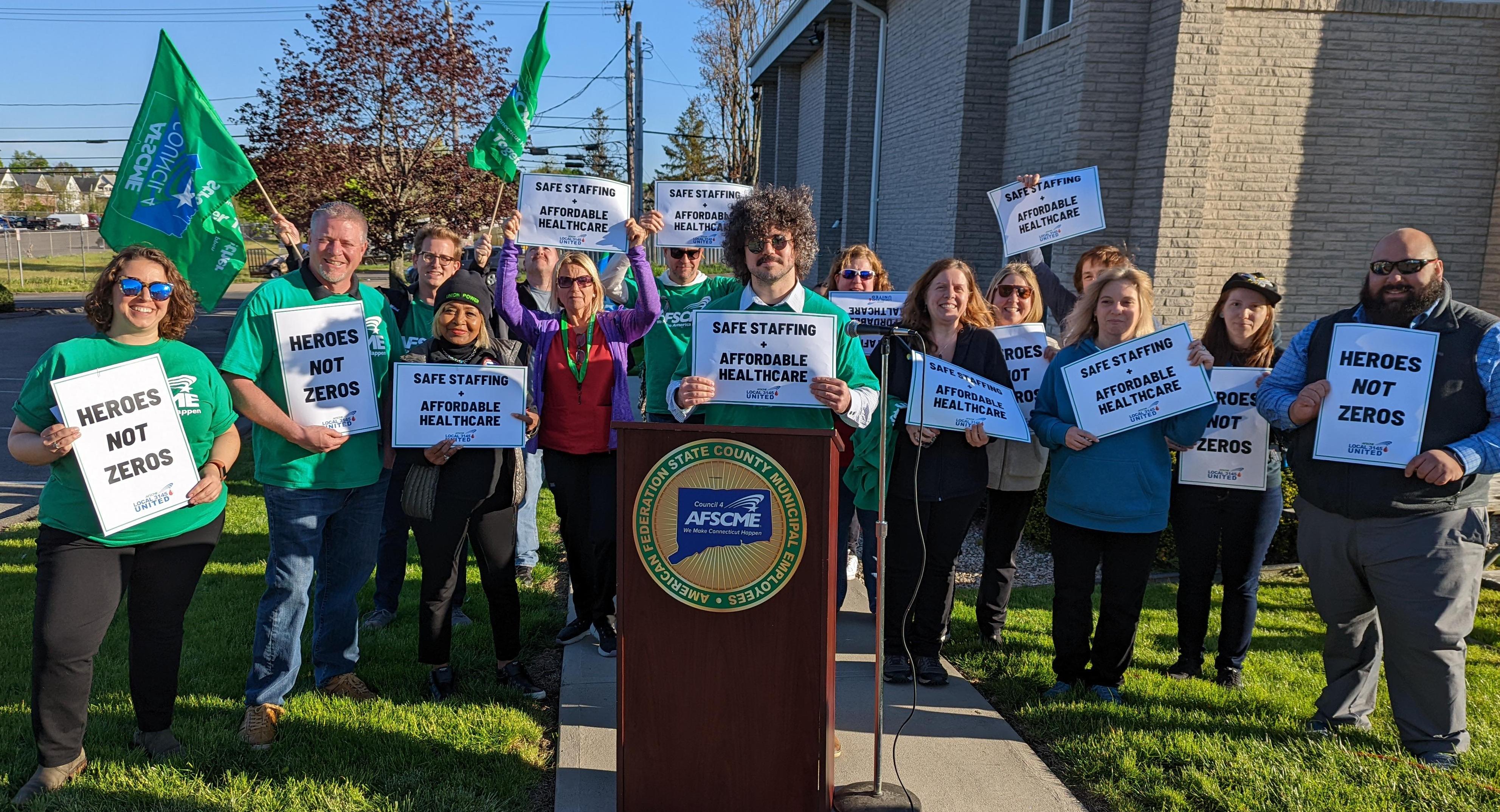 Joseph Tine, President of Local 3145, spoke about the need for affordable and quality healthcare and the sacrifices their members made during the pandemic.
Davis, executive vice president for the Connecticut AFL-CIO, a federation representing more than 200,000 workers across the state, called on the ARC to do more to thank its essential workers.
"You not only deserve our thanks, but you deserve to be compensated fairly," Davis told Local 3145 members. "I'm sick and tired of hearing executives thank essential workers but then refuse to pay them a living wage or provide affordable insurance.
Davis added, "We urge the Red Cross to negotiate a fair contract with these frontline essential workers. The entire membership of the Connecticut AFL-CIO proudly stands with AFSCME Local 3145 and the rest of the coalition of Red Cross unions as they fight for a fair contract."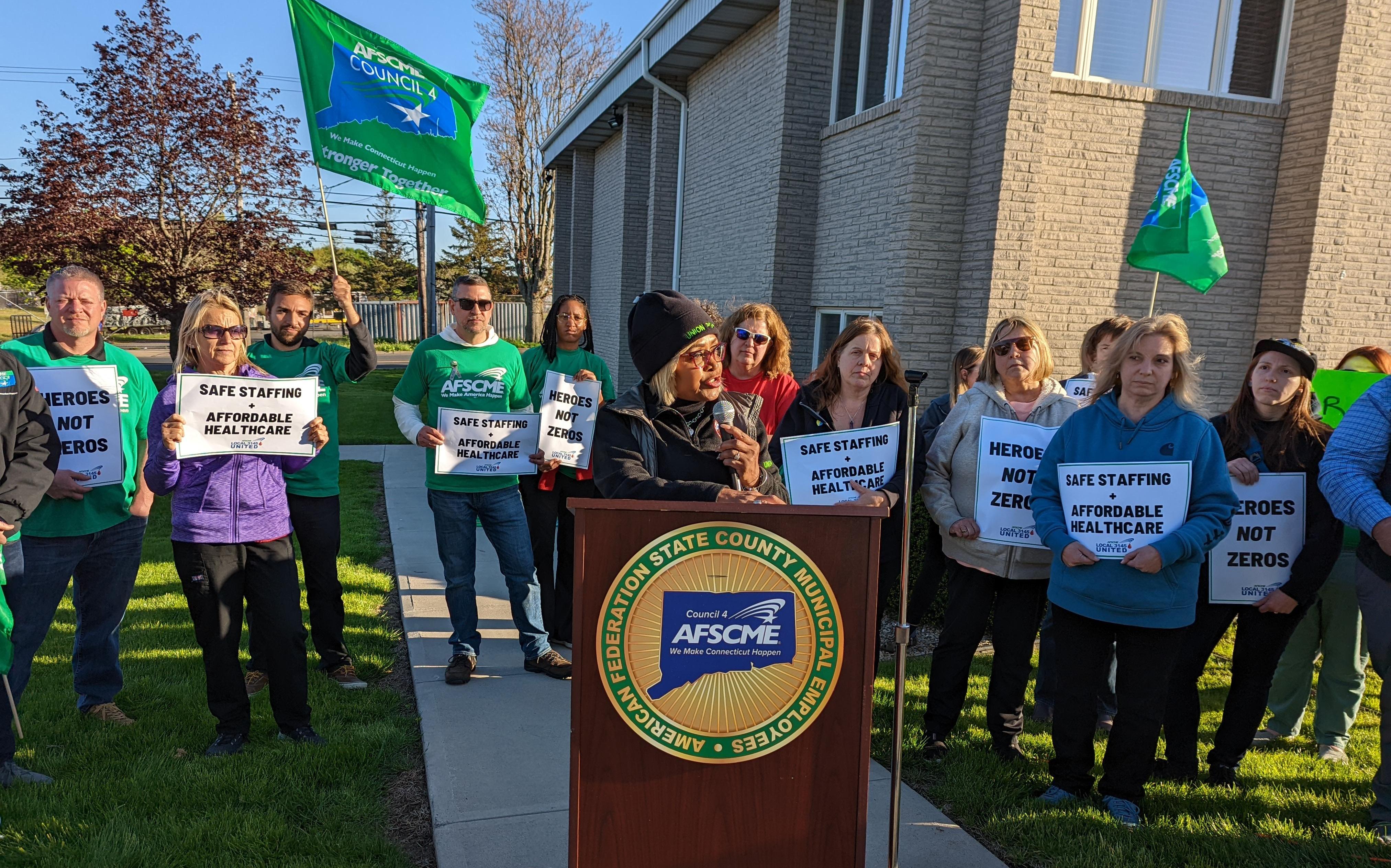 Shellye Davis, Executive Vice President of CT AFL-CIO, delivered a message of solidarity for American Red Cross workers as they resume contract negotiations this week
This week, members from across the country and their union representatives from the national union coalition are slated to return to Washington, D.C., to try and make progress in their negotiations with ARC management.