AFSCME Council 4 members employed in public schools provide a range of support outside of the classroom: school security, food service, college and career planning, student health.

As a new school year starts, we spoke with some of our members who work as school support staff about how they contribute to student success and how the union, in turn, supports them.
Megan Magoveny and Kelly Boyle
School resource officers Megan Magoveny, a 16-year veteran of the Wallingford Police Department, and Kelly Boyle, who's been a Wallingford police officer for 10 years, are members of AFSCME Local 1570.

The school resource officer (SRO) program began in Wallingford schools in 2018.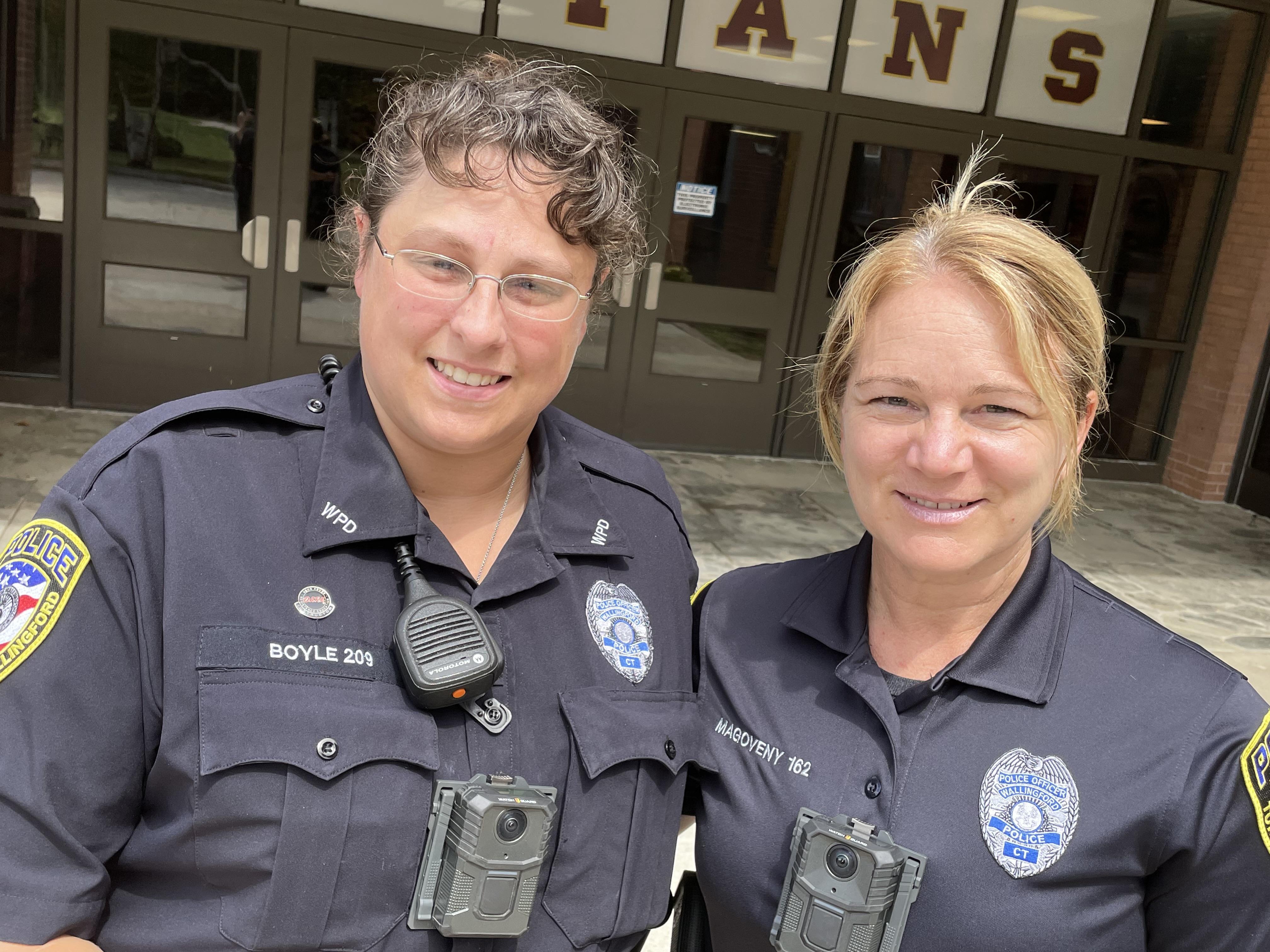 Wallingford school resource officers Kelly Boyle, left, and Megan Magoveny (AFSCME Local 1570) stand outside Sheehan High School, Aug. 23, 2022 │Lauren Takores, Council 4 staff

Magoveny, who has been an SRO since the program launched, splits her time between Wallingford's two high schools.

Her goal is to change the perception of police officers in schools to how it can be a positive thing for everyone — students, staff and even parents.

"I've been in the yearbook here," Magoveny said. "I'm utilized as a staff member, and I think that is an amazing accomplishment for all of us involved, to be able to be perceived as a staff member and not just a police officer."

Magoveny previously served as the town's Drug Abuse Resistance Education (DARE) officer — a program Boyle wants to bring back to Wallingford's two middle schools, where she is the dedicated SRO.

Boyle said the scope of the DARE program has expanded from drug abuse prevention to give students the tools they need to make good decisions, navigate peer pressure and responsibly use the internet.

"You really need it," Boyle said. "Especially after Covid, with kids being home doing virtual learning, it's definitely affected them."

The Wallingford Police Department held a school supply drive the weekend before school started on Sept. 1. Boyle and Magoveny donated the materials to Wallingford's eight public elementary schools and two religious schools that serve K-8 students.

Other back-to-school tasks include scheduling lockdown drills — the school district requires five at each school throughout the year — and requesting the presence of traffic and patrol officers in some school zones.

Wallingford's police union represents 65 members. Magoveny praised Wallingford Police Sgt. Joe Cafasso, president of Local 1570.

"He was my boss at one time," she said, "and no one really knows how much he does without anybody knowing the time he spends, the hours he'll have meetings, and I don't think anyone really realizes how much effort it is."

Boyle said that Wallingford is the size of a small city — with a population 45,000, it's roughly comparable to Enfield or Middletown — but the police department is understaffed.

Better pay, benefits and a more competitive contract might help the department attract candidates who really want to do the job," she said.

"Over the 10 years that I've been here, we've been able to maintain more officers," she said. "I think a lot has to do with the fact that we still have a pension. A lot of agencies don't."
Jean Miller
As the administrative secretary for Glastonbury High School's College and Career Center, Jean Miller can say her work has made a difference to students.
In her four years with the program, she has been instrumental in expanding the scope of services students can receive when navigating post-high school life.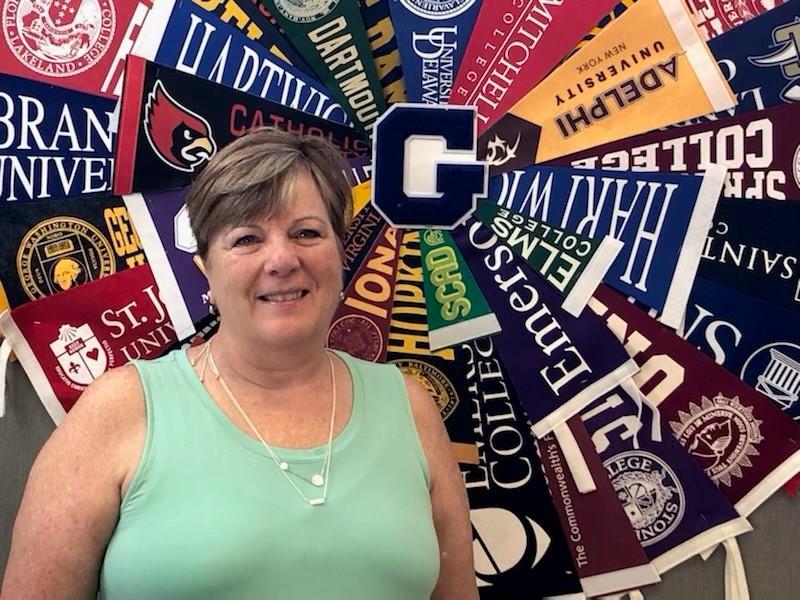 Glastonbury High School's college and career center administrative secretary Jean Miller, AFSCME Local 1185, stands in front of college banners, Aug. 25, 2022│Contributed by Jean Miller

"We make sure that everything kids can think of to do after high school — whether it's college, military, gap year, trade school or going right to work — that they feel they are as equal to everyone," Miller said.

Miller serves as president of Local 1185, representing 135 full-time educational secretaries and paraprofessionals in Glastonbury schools.

Miller has helped bring presentations and curriculum to younger students so they are aware of the center's resources sooner, introducing them to tools for career searching while developing their understanding of how to connect their interests with future endeavors.

By their sophomore year, students are more apt and ready to narrow down choices and goals. Miller has expanded the promotion of the program to ensure those who are not thinking about college are encouraged to come through her doors.

"Underneath it all, some kids may feel that if they're not thinking about going to college, they are 'less than' in some way," Miller said. "We're doing a really good job of helping kids see that all options are as good as the others, as long as you are committed, feel good about it and it reflects your interests."

In her six years serving as local president, Miller has witnessed the difference a union makes. She understands her role in looking out for members' careers while being someone they can go to for questions, support and a listening ear.

"The thing I feel the union has done for me personally is to understand we are all stronger together than as individuals," Miller said. "I never understood how supportive a union environment really is until I got in one myself. Having that union contract to work with and to work under makes you stronger."

This school year, Miller and the local executive board plan to develop a monthly member newsletter that would include highlights of what they are working on, educational pieces, save-the-dates and feature a new person each month, such as their Council 4 staff representative, Tricia Santos, or a local leader.

"[The newsletter] is a great way to help people feel a little more like they know what is going on in their union and not just so much this thing they belong to that they don't totally understand," Miller said.
Shirley Mone
Shirley Mone has been preparing and serving school lunch for Bristol Public Schools for 17 years. In an hour and 45 minutes, she helps feed roughly 700 kids daily at Chippens Hill Middle School.

Mone, a member of Local 2667, goes beyond preparing and serving food. She makes a point to do a wellness check on students she sees are not eating.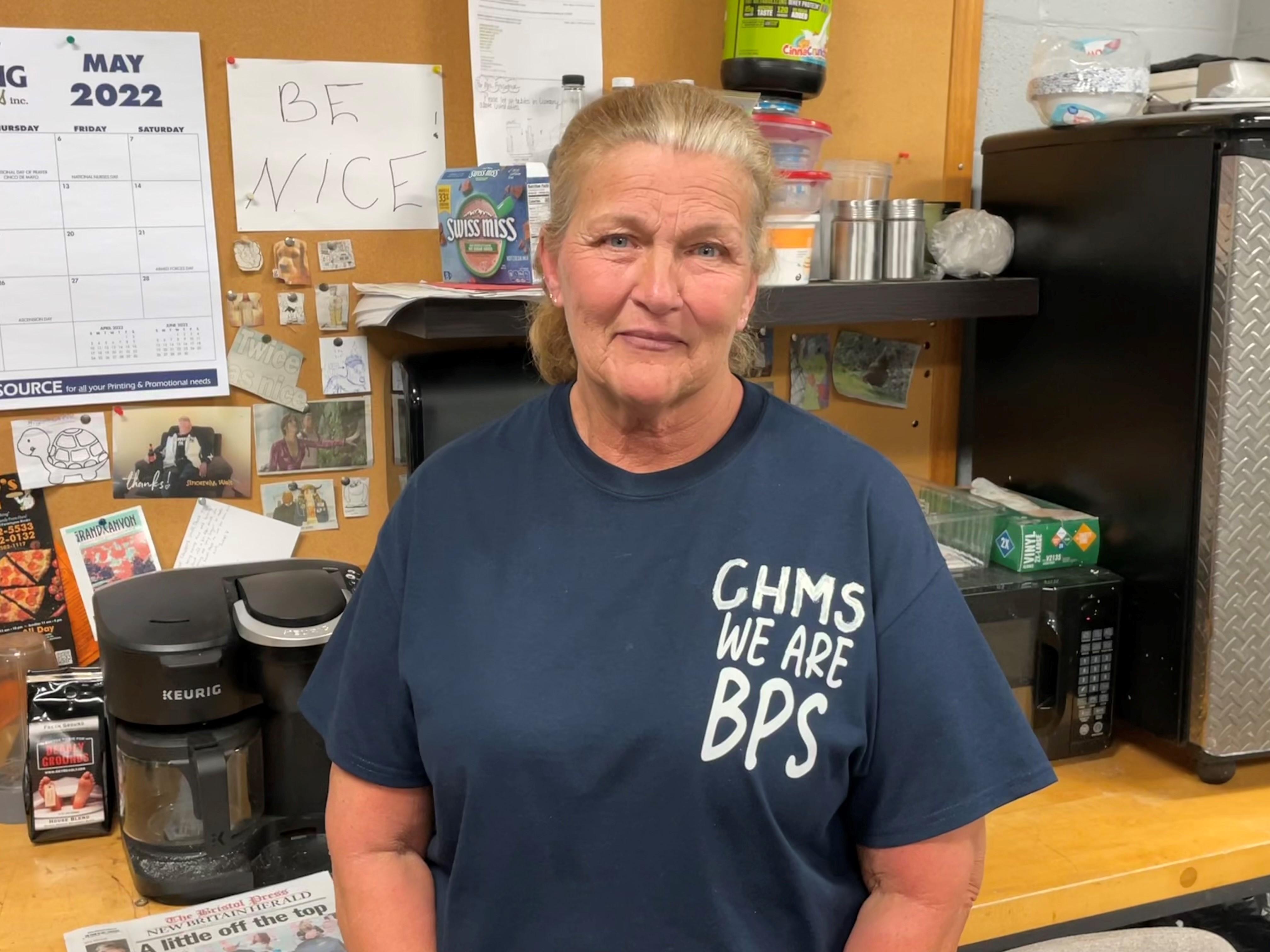 Cafeteria worker Shirley Mone, AFSCME Local 2667, takes a break before the lunch waves start at Chippens Hill Middle School, May 3, 2022│By Renee Hamel, Council 4 staff

"You find a teacher or an aid that's on cafeteria duty," Mone said. "We try to find out what's going on with that student to make sure they are eating… We don't know all their stories."

Mone not only makes sure all of her students are fed, but she's active in the fight for fair wages for her cafeteria staff.

Last July, their 83-member bargaining unit, which includes custodians, maintainers and paraprofessionals, settled what Local 2267 President Chad Lockhart described as "one of the best contracts in the city."

Mone was the first cafeteria representative in the history of their unit to get general wage increases for cafeteria staff on top of raises for each year of the contract.

"We stuck together and everyone got a little piece," Mone said. "We just fight all the time."

About eight years ago, Mone and her co-workers stood up against an attempt by the city to privatize their work. They fought and won that, too.

"Shirley is very active, doesn't let things go, and is on top of things," Lockhart said. "She's very vocal and is a great advocate for the kids and our union members."
Jessica Paquette, Roz Laing, Donna Barrett
The nurse's office team at Francis Walsh Intermediate School in Branford began preparing for the new school year on Aug. 25, a week before school resumed.

There were student health forms to update, parent calls to return, doctor's notes to file, student medications and EpiPens to store.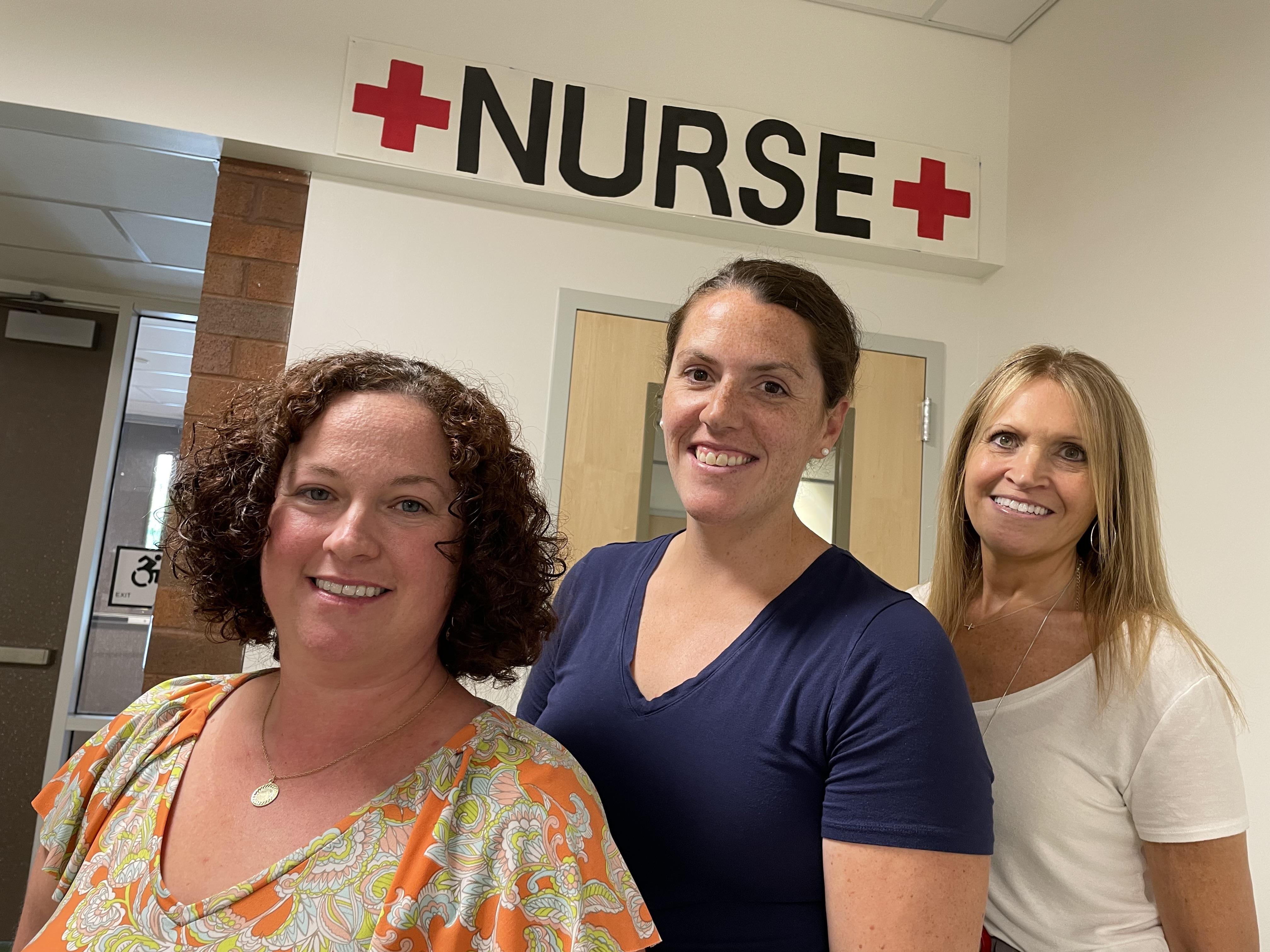 The school nurse team at Francis Walsh Intermediate School in Branford, Aug. 25, 2022. From left: nurses Jessica Paquette and Roz Laing, health aide Donna Barrett.│Lauren Takores, Council 4 staff

Jessica Paquette, one of Walsh's two school nurses and Local 1303-365 president, has the help of Walsh's second school nurse, Roz Laing, and school district health aide Donna Barrett, who travels to each school one day a week.

"We're the only school in Branford that has the two nurses because we're the busiest, biggest school," Paquette said.

The nurses collaborate with school social workers, guidance counselors and principals to ensure the whole child is being supported.

"The most important part of a school nurse's job is when the kids come to see us, we focus on them and we listen," she said. "They don't sometimes directly tell you what the issue is, like sometimes they can say a bellyache but they're nervous about something in class."

After honing her nursing skills at a hospital for five years, Paquette took over for Walsh's retiring school nurse 12 years ago.

Paquette became her local's president when the more senior nurses retired or moved on.

"I kind of inherited [the position]," she said. "I think we're a really strong group. We always get each other's opinions about everything. We have really good communication."

Although the local is a self-directed group, she said she can rely on Council 4 Staff Representative Chris Sugar for assistance.

"He's like a good sounding board to tell us, 'yes, this is the next step,' or, 'these are your options,' to help us assert ourselves and to have another voice,'" Paquette said.

Barrett, the district-wide health aide, came to school nursing after a career at Blue Cross Blue Shield in Maryland as a school health assistant.

She said that the other nurses in the school district have been a great support.

Laing, the other school nurse at Walsh, said that she relied on the support of the union while navigating the COVID-19 pandemic.

"I think it feels really good to have the union, just as like a backup," she said, "and you can kind of bounce things off Mr. Sugar. He's been wonderful and nice. He's really super responsive."

Be a #PublicServiceProud member! Do you have a member story you want featured? Get in touch at [email protected]