Social work encompasses a diverse range of careers. There are school personnel, mental health professionals, substance abuse specialists — all important roles that improve our communities and help people live safe, fulfilling lives.
Without the work social workers do, children and parents would have fewer resources, senior citizens would be more vulnerable to exploitation and the most downtrodden in our society wouldn't have their basic needs met.
Currently, Council 4 AFSCME Local 2663 represents workers in 12 state agencies, four of which employ social workers.
Shauna Sardi sits outside her office building in Middletown, April 20, 2022 │Lauren Takores, Council 4 staff
Union member Shauna Sardi, a permanency services social worker in the state Department of Children and Families in Middletown, helps children stay in touch with parents who are incarcerated, assists the Foster Care Team in helping relatives become registered foster parents, processes adoptions and oversees reunifications of children and parents.
Sardi said she chose public service as a career because loves to see people succeed.
"I had one reunification recently where it was a long court process, but the parents didn't give up," Sardi said. "We had a lot of legal involvement, a lot of trials, and they got their child back in the end, and I'm proud of them."
Connecting parents and families with community resources — churches, food pantries, clothing banks — is another aspect of the job.
She'll scour internet ads for free clothing and toys to bring to her clients, and then teach them how to do the same.
By connecting clients with community members, providers and agencies who donate to families, she said, it helps to build a family's own resource management skills, which helps to prepare them for life post-DCF involvement.
Sardi also enjoys learning about diverse cultures. She once worked with a Turkish family that practiced Muslim traditions, so she researched how to behave as a visitor in a Muslim home — from wearing appropriate clothing to not shaking hands to standing until asked to sit.
Social workers rely on interpreters and translators to partner at home visits to meet with families who may speak different languages or dialects, she said.
"Struggles present if there is no translator readily available to assist," she said. "There is a need for social workers to be culturally sensitive towards all families we work with. At times, there is misinformation about particular cultures, and it makes a difference to research, ask and help others to understand about these unique differences as well, which makes each special."
Sardi said she feels it's "a huge privilege" to be part of a union that is supportive and advocates for members.
"It gives me a sense of comfort and reassurance, knowing that I have the union behind me and supporting my work and acknowledging it," she said.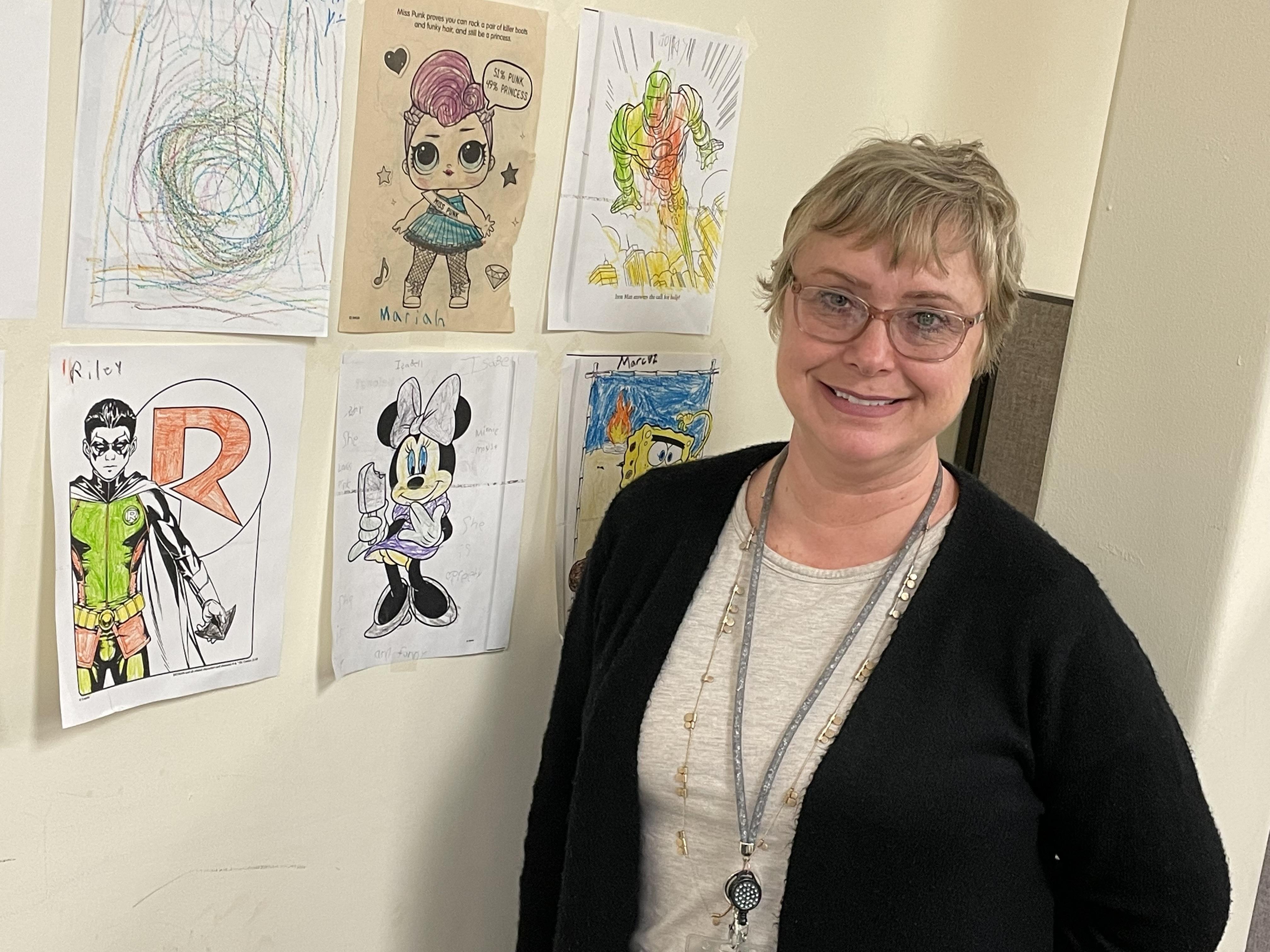 Brooke Clemons poses with drawings done by children who have visited her office in Manchester, May 2, 2022  │Lauren Takores, Council 4 staff
Brooke Clemons of Local 2663 works for the state Department of Social Services in Manchester as a social worker for protective services for elders and conservatorships.
She investigates reports of abuse, neglect or exploitation of an elder by doing a risk assessment to see if the elder is competent to make decisions regarding their needs and refers them to services or files for conservatorship if necessary.
Clemons always looks out for unscrupulous family members and opportunistic phone scammers, but what she enjoys most about her job working with seniors and their families is seeing that she's able to make their lives better — whether it's connecting them to community services or helping them achieve a goal like downsizing their homes.
She also helps families see that there are services out there to help.
"The families don't always have to hold the burden of full responsibility," she said. "There are programs out there that can help, like Meals on Wheels or Companions and Homemakers, where the family can get a little bit of respite from the services that are out there."
Clemons been with a state employee for 25 years working for about 10 years a social worker with DCF in Hartford and has been with DSS for about 15 years, she said — and a member of AFSCME the entire time.
She was inspired go into public service by her father, who was a volunteer firefighter for 60 years, working as the fire marshal and rising to the rank of fire chief in Coventry. She chose social work as a career to connect people to the right programs to find the right help.
"Family members are so grateful that they can get the help they need," she said.
Clemons has been working for the state for 25 years, a member of AFSCME the entire time. She said that when her father was working for the University of Connecticut and fell ill, his union helped him access an extended leave of absence and a small state pension.
Her oldest child won a union scholarship for graduating high school seniors, and her husband, a retired correctional officer and AFSCME member, was able to access the necessary medical care after he hit his head on the job.
"The union was there to help support him with these medical benefits," she said, "Now, with the most recent (state employee) contract, which has taken a long time to come through and is probably one of the best ones, we finally feel like we're getting some kind of recognition for the work we do."
A legislative win
In addition to the SEBAC contract, social workers had a win during the recent legislative session.
Senate Bill 2, which passed May 3 after a bipartisan vote in both the Senate and the House, expands mental health and behavioral services for children by providing and expanding resources for services, such as child mentoring and civic engagement programs. It also provides resources for social workers in DCF to help with these services.
Local 2663 President Marybeth Kaczynski-Hill testified in support of the bill and is gratified to see that it will become law. Gov. Ned Lamont has not yet signed the bill but is expected to soon.
"As a union, it's important to make sure legislators understand the importance of not just supporting but also funding the vital services that Local 2663 members like Shauna Sardi and Brooke Clemons provide to the most vulnerable children and families in our state," Hill said in a statement. "I believe this law will improve the lives of our clients."
Be a #PublicServicePround member! Do you have a member story you want featured? Get in touch at [email protected]