The union makes its members brothers and sisters, but we also have parents and their kids who are AFSCME members — sometimes working together side by side.
Local 1716 President Orlando Mercado Jr. works alongside his father, Orlando Mercado Sr., in the City of Hartford Public Works garage.
The younger Mercado has been the local president for almost a year and on the job for 10 years. He's an automotive mechanic, working on police cruisers, the mayor's car and other city vehicles.
The elder Mercado is a heavy equipment operator and has been on the job for almost 23 years. He said the job security and good benefits led him to a career in public service.
"It's a job that you can support a family (on) and live in Hartford, too," he said.
When the younger Mercado started his family, he sought the same support for his wife and children.
"Before I started working here, I was working at a Honda dealership for barely any money," he said. "One week I'd have a good paycheck, one week I'd have a crappy paycheck. For a family just starting off, it wasn't very ideal."
While the two work in the same job site, they work on different equipment and don't cross paths often. Outside of work, they share a passion for working on the family cars.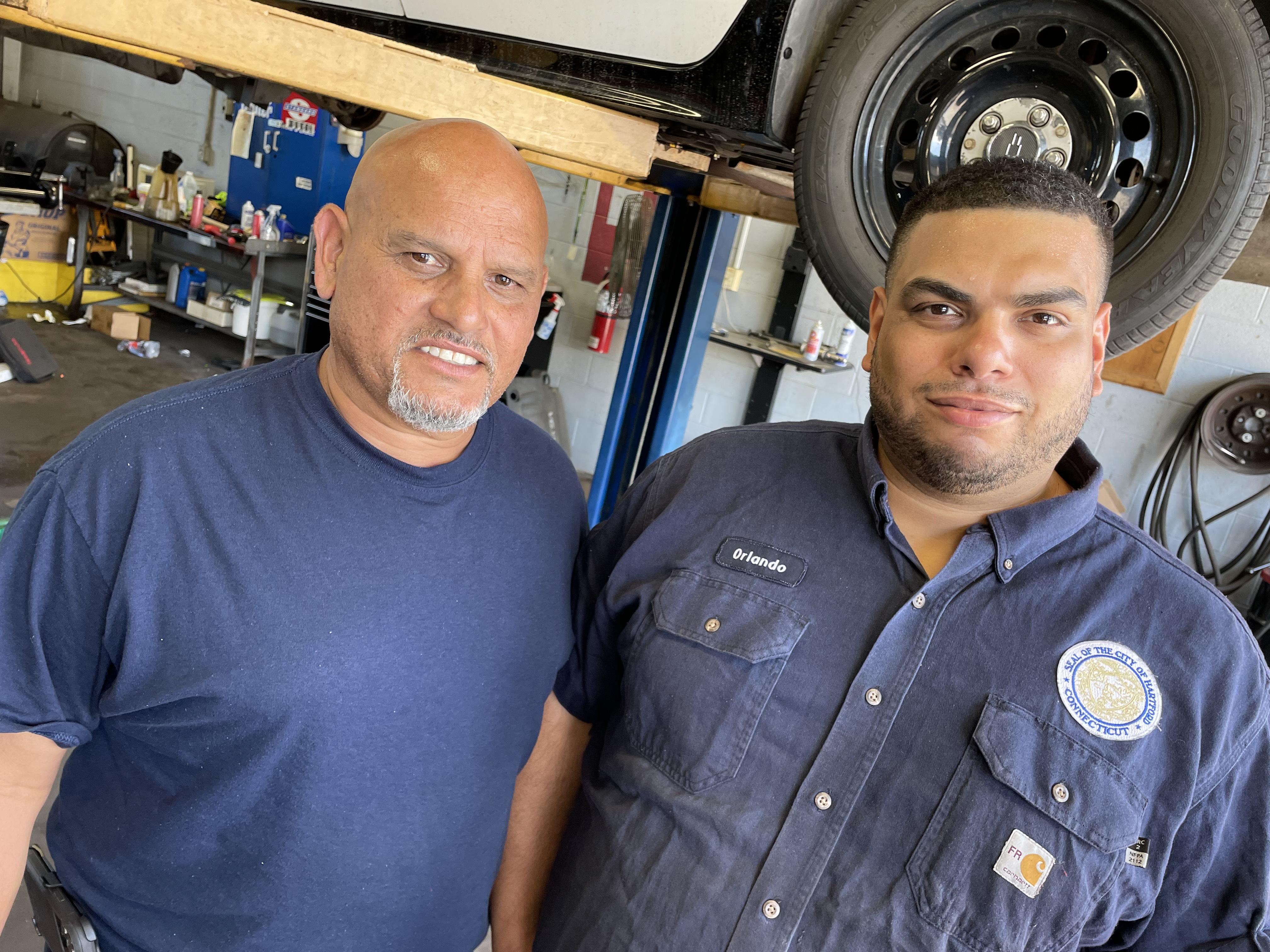 AFSCME Local 1716 President Orlando Mercado Jr., right, works alongside his father, Orlando Mercado Sr., left, in the Hartford Public Works garage.
The younger Mercado said he sought a position on Local 1716's executive board because he didn't want any department to be left out.
"When I ran for e-board, I told everybody (that) I'm not here just for myself," he said. "I legit care about everybody here, and I want to see every part of the city under 1716 thrive… My father taught me growing up, [to] be consistent with everybody."
Local 1716 represents about 550 Hartford city, library and XL Center employees.
The younger Mercado said that since Hartford's budget is still under the Municipal Accountability Review Board (MARB) — which reviews municipal budgets of cities and towns in financial trouble and provides other assistance related to financial accountability — it affects pay and benefits in the labor contracts.
"Until they're gone, we can't really fight for more," he said.
Hartford has been under the MARB's authority since December 2017.
Union leaders in the family
Father and son Ken Maltese and Rob Maltese work as civilian dispatchers in Enfield and are members of Local 1029.
Ken Maltese was a steward for about 25 years.
"The union president called me up one day and said, 'Listen, I needed to turn the list of union stewards into the town hall, and you guys didn't have one, so I put your name in,'" he said. "And I didn't mind it. I used to work at Hamilton Standard back years ago, and I was union steward for the International Association of Machinists and Aerospace Workers. So I had the experience in it."
When he stepped down last year, the rest of the membership voted in Rob Maltese to replace his dad.
Rob Maltese also serves on Local 1029's executive board. He said he joined to give a voice to the town's dispatchers in the union.
"(Local) 1029 is a very unique and diverse group," he said. "We have so many different divisions that are in one local. We have to make sure that there's proper representation of people who understand each position."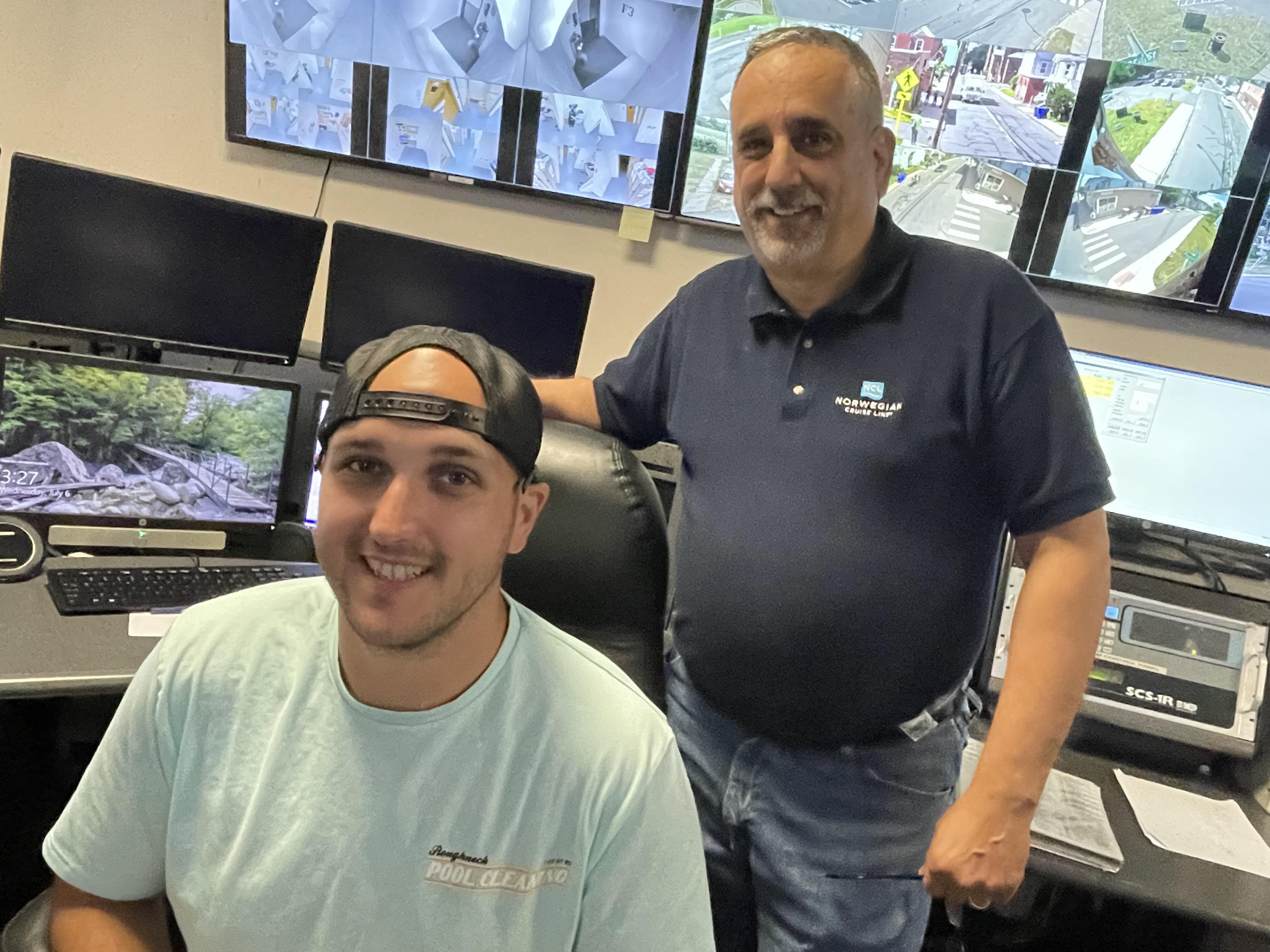 Father and son Ken Maltese, right, and Rob Maltese, left, work as civilian dispatchers in Enfield and are members of AFSCME Local 1029.
Ken Maltese said that he was working for a commercial ambulance company after six years in the U.S. Navy when he applied for the dispatcher job.
"What I think really got me the job was the chief at the time, who was very pro-military and pro-EMS, and I was working EMS at the time," he said.
Both also have firefighting experience —Ken Maltese was a volunteer firefighter for 37 years and served as a lieutenant for a period of that time, and Rob Maltese also is a former volunteer firefighter.
Rob Maltese came to be a dispatcher after being encouraged by his former boss to take the opportunity to apply.
"He had a little bit of an insight, too," Ken Maltese said, "because both him and his brother used to come in and sit in with me a lot when they were kids."
Rob Maltese said that when he started as a dispatcher, he was against unions.
"I was young and naive, I didn't know," he said. "I think it took, unfortunately, me getting disciplined for me to really understand how the union can step up and help."
Today, Rob Maltese is not only a union leader, but an accomplished first responder.
"I measure success in various ways," he said. "What level of service did I provide to this person? And did I do what I would do for my own family?"
Serving the community
Union family members sometimes work in the same town but are represented by different locals.
Local 3689 Vice President Michelle Pion, a paraeducator at Killingly High School, has worked in the school district for 20 years. 
Starting as a volunteer then a substitute in the elementary schools, Pion was hired as a full time special education paraeducator for Killingly Central School and worked there for nine years. Since then, she has worked at Killingly Intermediate School and currently works at Killingly High School. 
"My job as a paraeducator is extremely rewarding each and every day," she said.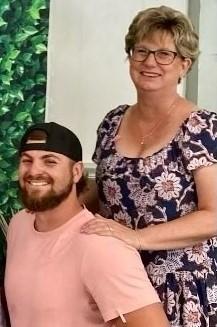 AFSCME Local 3689 Vice President Michelle Pion, right, and Connor Pion, left, member of AFSCME Local 1303-11, both of whom work in Killingly.
Her son Connor Pion just celebrated his first year as a driver at the Killingly Department of Public Works. Town employees are represented by Local 1303-11.
"After working at a job where he had been unhappy for a while," his mom Michelle Pion said, "he decided he would follow a different path where he could take on new opportunities that would come his way."
She said that her son had always talked about getting his commercial driver's license and working for the town he grew up in. 
"Serving his community has been an enlightening opportunity that he is grateful for," she said.
Michelle Pion has taken on many different roles in Local 3689, including treasurer, recording secretary and secretary. In addition to serving currently as the vice president, she's shop steward for the high school.
"Being involved on our negotiations committee during our last three contracts has been beneficial," she said. "It has allowed me to voice not only my concerns, but bring my colleagues' concerns to the ones who need to hear them. Trying to help others has always been a part of me, being part of this union allows me to continue to be there for my colleagues while making difficult decisions."
Be a #PublicServiceProud member! Do you have a member story you want featured? Get in touch at [email protected]