The Connecticut AFL-CIO's 2021 Biennial Convention bore the distinct coloring of AFSCME green and blue, with more than 70 Council 4 members from state and municipal locals serving as delegates and guiding the 200,000-member labor federation's agenda for the next two years.
The 250 convention delegates witnessed an exciting transition to a new generation of leadership, as Ed Hawthorne (AFSCME Local 269) Shellye Davis (AFT Local 2221) were unanimously elected as President and Executive Vice President, respectively.
Hawthorne, a member and Vice President of AFSCME Local 269 (P-2 Human and Social Services Bargaining Unit), worked as an appeals referee for the Connecticut Department of Labor. Davis is a paraeducator with 25 years of experience in public education. She currently serves as President of the Hartford Federation of Paraeducators (HFP) Local 2221.
"Thank you for this honor and bestowing your trust in me," Hawthorne told delegates following his election. "Working on your behalf as the President of Connecticut AFL-CIO is a dream come true. Have no doubt that Shellye and I will work tirelessly every day to ensure your members achieve the American Dream."
Click here to listen to Council 4 podcast interview with newly elected CT AFL-CIO leaders, Hawthorne and Davis.
Four members of Council 4 were re-elected to the CT AFL-CIO Executive Board: Jody Barr (Council 4 Executive Director), Stacie Harris-Byrdsong (Council 4 Secretary), Colleen Carter (Steward Local 704, NP-3 Administrative Clerical), and Collin Provost (President Local 391, NP-4 Corrections).
In addition to electing new officers and executive board members, delegates passed numerous resolutions that will direct and focus the work of organized labor over the next two years.
Anthony Soto of AFSCME Local 269 urged delegates to approve a resolution calling on Governor Ned Lamont to protect high-quality public services by filling state employee vacancies at understaffed agencies.
"People deserve superior public services, not diminished public services," Soto told convention delegates, who unanimously approved the resolution. Soto works in the Wage and Workplace Standards Department of the DOL.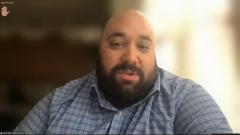 Kimberly Smith (Local 704) and Steve Wierbicki (Local 269) were among the many Council 4 members who participated in a lively workshop, "An Economy That Works for All: A Conversation about Systemic Racism." Co-presented by AFL-CIO's Civil, Human & Women's Rights Director, Clayola Brown, the workshop examined the historical roots of how the economy intersects with racism to create conditions that leave large portions of working people without economic prosperity.
Margo Jones (Local 704) described having an "epiphany" while attending the workshop on member and worksite engagement. On the topic of having one-on-one conversation with co-workers she likened member engagement to "leaving a trail of breadcrumbs," since moving members towards action can be a process that does not happen all at once.
Brooke Carta (Local 466, Middletown Town and BOE employees) also attended and shared her local's efforts to educate members to vote "no" on a charter revision question for the municipal election. The referendum question would split up members of their bargaining unit and potentially weaken their collective power.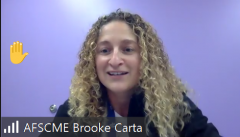 The convention closed with a bittersweet send off to Sal Luciano for his retirement. Luciano served three years as President of the Connecticut AFL-CIO after seventeen years as Executive Director of Council 4. Several Council 4 members spoke highly of his tenure with the Council and the larger labor movement.
"You have always been there for us," said Jay Bartolomei, President of Local 714. "We never felt like you weren't on our side. Enjoy your retirement, again!"
Harris-Byrdsong, thanked Sal on behalf of the Council 4 Executive Board and spoke about the positive influence he had.
"You still encouraged me after all the of the times when I wanted to throw up my hands and walk away," she said. "You were that father to me in the union. And so, I say, 'thank you' for showing me the ropes and teaching me how to navigate and never give up. I will be forever grateful."