For two new college students, Vanden Haviland and Bernae Webb - their future looks promising and a little more at ease.  
Vanden and Bernae are the winners of Council 4's 2022 Education Scholarships and will each receive $2,000 - renewable for up to four years.

Vanden Haviland

Vanden is the son of Dawn Klimkiewicz, a member of AFSCME Local 2836 (SUOAF), representing administrative faculty at Connecticut state universities and CSCU system office. He is a recent graduate of Farmington High School and attends the University of Hartford, studying electrical engineering. As a student Vanden plans to specialize in robotics and do community outreach to inspire a love of engineering with local students. 
Vanden grew up in a union family and understands the impact it has had on his childhood. His grandfather was a lifetime member of his firefighters union. 
"I've always been a benefactor of unions without yet having the opportunity to join one," Vanden explained. "The union gave my family good working hours, which allowed [my mom] to be a part of my education growing up and a salary in which she could save up for my sister and I's college." 
Vanden also emphasized the importance of the quality healthcare provided by the union which "allowed for appropriate medical care when needed to prevent long-term disability and without there being a concern for long-term medical debt."
Vanden's mother, Dawn, has been a member of SUOAF for 30 years. She works as a program analyst for Central Connecticut State University. Working in a unionized IT position provides her with benefits not always available to those in her field. 
"[The union has] done a lot for protecting my rights as far as not having to work excessive hours which IT is kind of known for," Klimkiewicz said. "So I've always benefitted from that."
She sees the scholarship as a form of relief - financially and mentally - for her son.

"It certainly helps pay part of tuition as it has gotten very expensive," said Klimkiewicz. "It lets him have more time to focus on his studies versus worrying quite so much about how the financial aspect will affect him." 
Vanden hopes to one day be an active member himself and expressed that he will consider whether a job is unionized or not when considering his employment options.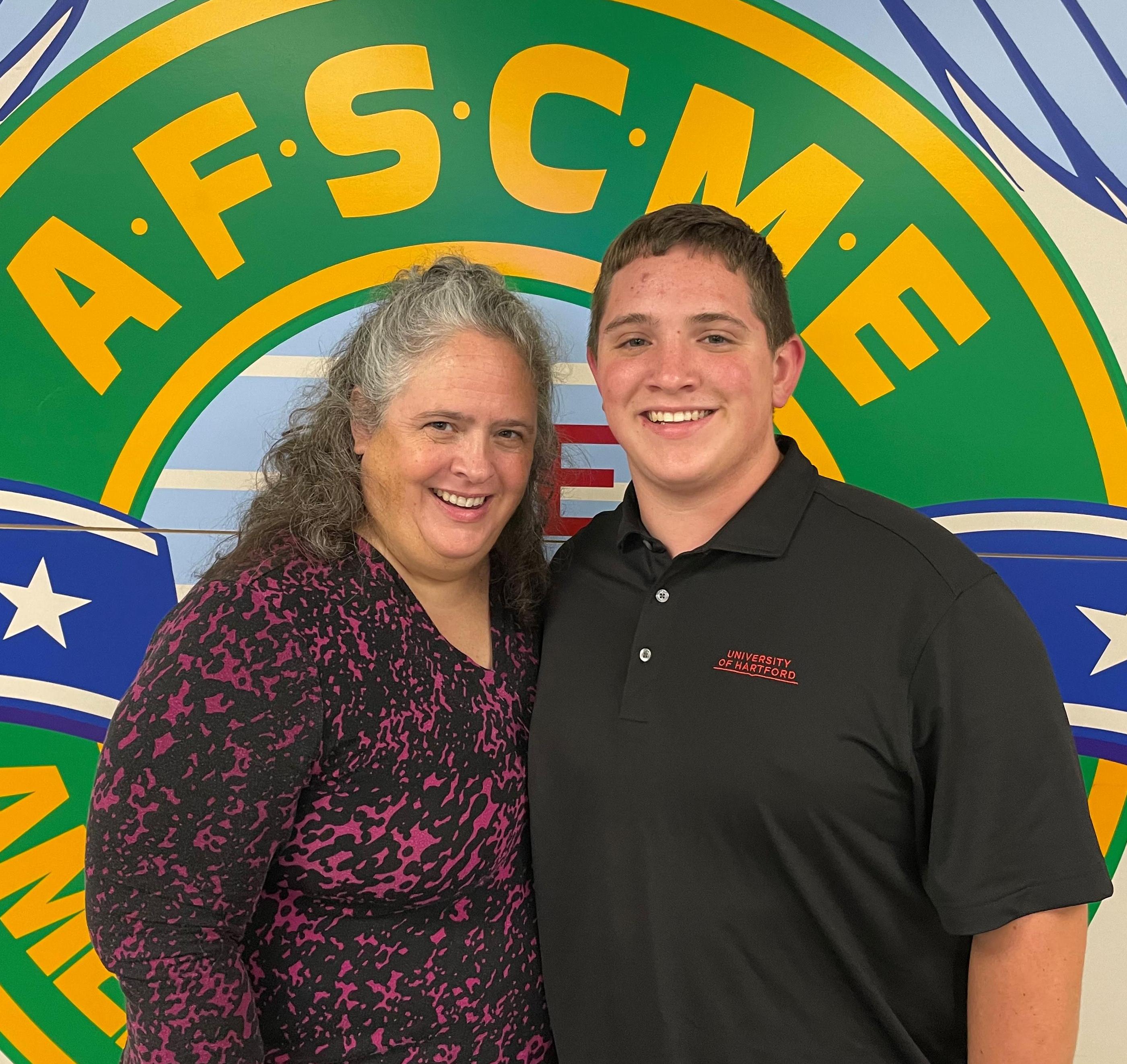 L-R: Dawn Klimkiewicz, a member of AFSCME Local 2836 (SUOAF), representing administrative faculty at Connecticut state universities and CSCU system office, and her son Vanden Haviland, co-recipient of Council 4's 2022 Education Scholarship.
Bernae Webb
Bernae is the daughter of two union parents, Tjuana Bradley-Webb and Bernard Webb, both members of AFSCME Local 1159, representing the Bridgeport Police Department. 
Bernae graduated from Notre Dame Catholic High School in Fairfield. She is attending the University of St. Joseph, majoring in health science. Bernae hopes to enter her school's dental program and eventually become an orthodontist. She believes there is a need for more African-American doctors in the medical field and emphasized her mission to help because "people are struggling and the best we can do is try to give positivity to everyone."

In high school Bernae was very active. She was captain of her volleyball and tennis teams and participated in dance club, campus ministry and service projects.

"Helping with the children and in school helped me be more involved in my community," she explained. While acknowledging that Bridgeport's has an unpleasant reputation, she recognizes the importance of uplifting her community. "Bless somebody and make them have a good day," she said.

In her scholarship application essay, Bernae expressed how AFSCME Local 1159 was there for her family when her sister passed away in 2013. 
"The outpouring of support from members of this union, towards myself and my parents is something I will cherish for the rest of my life," she wrote.

Bernae's strong sense of service to her community was modeled by her parents - both served nearly 30 years as sargeants for the Bridgeport Police Department. Tijuana Bradley-Webb recently retired and Bernard Webb is still active and also served for many years on his local executive board and as vice president. 
The proud parents are humbled by their daughter receiving the Council 4 scholarship and are not taking it for granted. 
"The scholarship is totally a blessing financially and gives her a sense of responsibility too," Bradley-Webb said. "Now that she knows that she's been provided a gift, it makes her work even harder."


L-R: Sgt. Bernard Webb (Bridgeport Police), Bernae Webb, and former Sgt. Tjuana Bradley-Webb (Bridgeport Police). Bernard and Tijuana are members of AFSCME Local 1159, representing the Bridgeport Police Department. Bernae is a co-recipient of the Council 4 2022 Education Scholarship.
These awardees mark the second year of Council 4's Education Scholarship. 
Last year's winners were Bryanna Vanderburgh and Zachary Jahn. Bryanna is in her second year at Tunxis Community College and is the daughter of Leighton Vanderburgh, member of AFSCME Local 1565, Department of Corrections. In her first year of college, studying dental hygiene, she earned a 3.8 GPA and ended her semester with high honors. 
Zachary Jahn attends Central Connecticut State University. He is the son of David Jahn, member of Local 1303-475, Cromwell Professional Emergency. 
Applications for 2023's scholarship will be open next spring.