Paraeducators are invaluable to the well-being and academic success of their students. They are the backbone of classrooms and critical to the overall functioning of their schools, yet the work they do is often overlooked. Recognizing paraeducators for the skills, compassion, and commitment they bring to students is important in elevating the profession and honoring them for their service. Four Council 4 paraeducators were highlighted this Fall by their school districts for going above and beyond in support of their students.
Vanessa Logan, Capital Region Education Council (CREC) 
Vanessa Logan (AFSCME Local 3194) is a paraeducator at the Academy of Computer Science and Engineering Middle School in East Hartford. For five years she has worked at  the Academy, which is one of 17 schools of the Capitol Region Education Council (CREC) district. In June, she was honored at an awards luncheon as CREC's 2023 Paraeducator of the Year and also recognized during CREC's Fall staff convention. Logan has been with CREC for almost 12 years.
For Logan, being a paraeducator that works with middle school students means valuing even the smallest details when it comes to building relationships with students. 
"Showing up to work every day, greeting them with a smile, sometimes it's the simple things that lets them know that you're here for them," Logan said. "It's just like a simple conversation like, 'Hey are you okay?' By letting them know that we hear them, we see them, we understand them, I think that allows them to open up more and just become better." 
Logan is more than just a paraeducator at her school. It is common for her to step up and fill the gaps when a teacher or staff member is out. Since the beginning of the school year, she has filled the role as a caseworker, resource director, and now as an 8th grade science teacher. On top of her regular duties, she is also the school's cheerleading coach and leads the team during after school practices and competitions. 
"We literally take our work home with us," Logan said. "We don't just shut it off. When we leave [for the day] we think about our kids.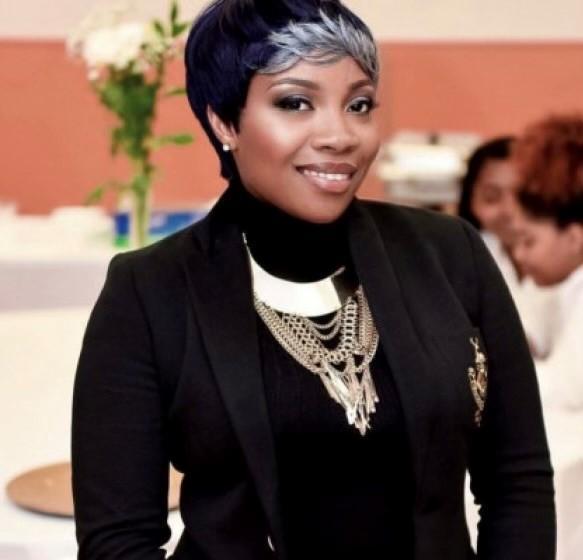 Vanessa Logan at a "Ladies in Business" bruncheon in Hartford in 2019. Logan is CREC's 2023 Paraeducator of the Year. 
Her impact on the students and staff she works with is undeniable. 
"She'll always bring the best out of us," said Jarielys, a 7th grade student and member of the cheerleading team, in a CREC video honoring Logan. "She'll always tell us 'Oh, you got this.' She'll always cheer you on like she's your number one cheerleader." 
Earlier this spring, Logan along with other paraeducators across the state attended a Lobby Day at the Capitol to share their stories with legislators and advocate for better pay and benefits. The experience of speaking out left a strong mark on her and her colleagues. 
"Simple things like a living wage, it's crazy that we have to beg for it," Logan said. So like letting [legislators] know we need you to see what we do and see our work, it was such a beautiful moment to me. We deserve these changes. And we're going to do whatever we need to make them understand that."
"Vanessa is an exemplary role model for her students and other paraeducators, said Stacie-Harris Byrdsong, Local 3194 president. "She is a gift to all who work with her and more importantly an advocate who understands the importance of having a union and using her voice to improve working conditions for all paraeducators."
Click here to watch video of CREC staff and students honoring Vanessa Logan 
Deanie Forthofer and Jen Dutton, Glastonbury Public Schools 
Council 4 Paraeducators Deanie Forthofer and Jen Dutton (AFSCME Local 1185) were recipients of the Glastonbury Red Apple Awards this year. These awards are given annually to recognize individuals who have given extraordinary service to the Glastonbury Public Schools community.
Deanie Forthofer is a full-time Special Education Paraprofessional at Naubuc School. 
"It really is an honor to have even been nominated," said Forthofer. "So many people in our district deserve to be recognized. We are doing our best to help students learn and grow, to help them find out what it means to have respect, kindness, caring; and for them to know they have someone to reach out to. It takes a village to raise a child."
Jen Dutton is a full-time Special Education Paraprofessional at the Eastbury/Glastonbury Transition Academy (GTA) where she helps students with a disability gain skills to have a seamless transition to community life after graduation. She is also a cheerleading coach for Glastonbury High School. 
Her nominators said: "Jen's dedication to her students is unmatched. Jen brings students on community trips, to work settings and leisure activities and supports students through all these experiences, building skills as they go."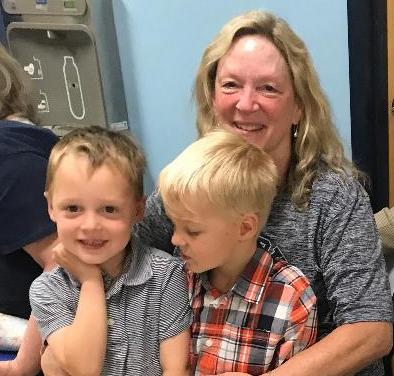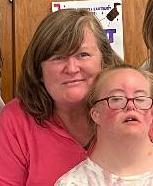 L-R: Deanie Forthofer with her grandsons and Jen Dutton with a Glastonbury Transition Academy student. Forthofer and Dutton are Glastonbury Paraeducators (AFSCME Local 1185) and recipients of the Glastonbury Red Apple Awards. 
Joan Pelkey, Bristol Public Schools
Joan Pelkey (AFSCME Local 2267) was awarded Bristol Public Schools Paraeducator of the Year 2024 Award during an October 12 ceremony attended by school administrators, staff, teachers, city leaders, and her family and friends. 
Pelkey, a 12-year paraeducator, works with preschoolers at Edgewood Pre-K academy. Although it may look like she only spends time playing with students in her classroom, so much learning is taking place during these play-type activities. As a paraeducator she facilitates building skills such as learning to share, communication, and creativity. 
"I love every day that the work is different," Pelkey said. "I like watching the kids grow and learn. Bristol School District is all heart. We care about the children and we care about each other. It's the best job in the world."
"Paraeducators are positive role models for the kids," said Chad Lockhart, President Local 2267, and one of the attendees honoring Joan. "Paras, like Joan, work tirelessly so they can do the best they can for the kids and give them a good start."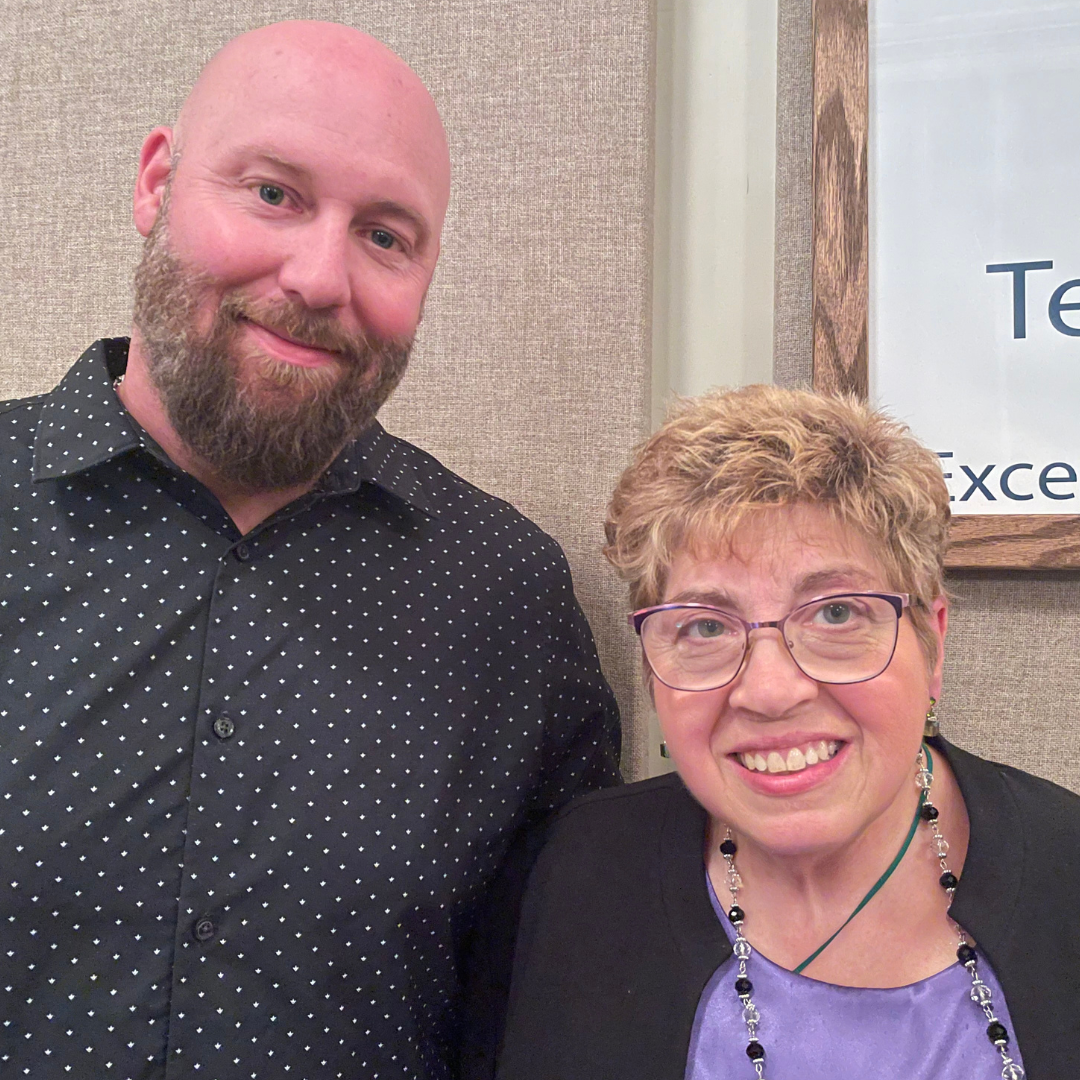 L-R: Chad Lockhart, President of AFSCME Local 2267 (Bristol BOE Employees), and Joan Pelkey, Local 2267 member and Bristol's 2023 Paraeducator of the Year at the awards ceremony on Oct 12. 
Pelkey also helps define what school means for Bristol's youngest students.
"In Bristol we are so fortunate to have paraeducators like Joan who work alongside our teachers ensuring that students leave their Preschool classrooms excited to continue their learning in Kindergarten," said Amy Martino, Director of Special Services and member of Bristol's Paraeducator of the Year Committee.
"They are so fortunate that [she is] one of the individuals working to make our new Edgewood Pre-K Academy feel like an extended family as our young scholars enter the doors."
 ###