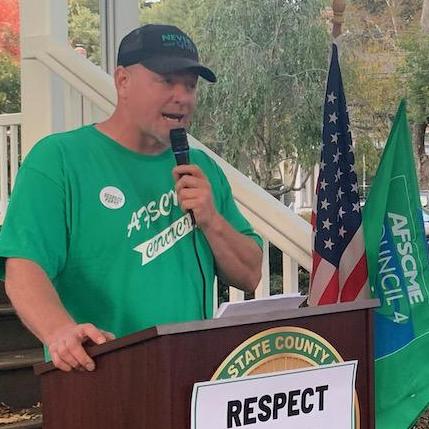 Council 4 Executive Director
Jody Barr is the Executive Director of Council 4 AFSCME, the union representing 30,000 public service workers throughout Connecticut.
The Council 4 Delegate Assembly elected Barr, who is a member of AFSCME Local 2836, the State University Organization of Administrative Faculty (SUOAF), to serve a four-year term on May 11, 2018. He was re-elected April 9, 2022.
Prior to 2018, Barr served as SUOAF's president, a position to which Local 2836 members elected him in 2013. Through methods of collaboration and team-building, Barr helped the local focus on building a stronger, member-centered focus on legislative activism to fight back against attacks on collective bargaining rights and efforts to cut resources from public higher education.
Local 2836, under Barr's leadership, also became one of the first Council 4 locals to embrace the AFSCME Strong mobilization program designed to engage members in support of their union through workplace conversations and meetings. Nearly 100% of SUOAF's 800 members signed union membership recommitment cards as a result.
Barr had worked for the Connecticut State University system since 1997, most recently at Eastern Connecticut State University in Willimantic, where he was employed as a voice system analyst. He holds a B.S. in industrial technology, with a concentration in technology management, from Central Connecticut State University.
In 2013, Barr was elected to serve as President of SUOAF, which represents 800 non-teaching faculty in the state universities and Board of Regents. In 2017, he was appointed to complete the term of Clarke King as Council 4 President. 
Barr served in the National Guard from 1996-2003. He is a member of the Council 4 Veterans Committee.
On July 19, 2018, delegates to the AFSCME International Convention in Boston elected to Barr to serve on the union's International Executive Board representing the New England region.