A year after unionizing, Ledyard Public School paraprofessionals have secured their first collective bargaining agreement.
Members of AFSCME Local 784, consisting of roughly 100 paraprofessionals, voted 52-1 in favor of the four-year agreement reached with the Ledyard Board of Education. The new contract, which went into effect July 1, 2021, provides Ledyard paras with annual general wage increases of .50, including retroactive pay, additional sick days, and paid holidays.
The bargaining unit, most of whom are women, assist students with special needs, school librarians, guidance counselors, and teachers across five schools in Ledyard.
Additionally, the contract also allows either paras with a serious health condition or their families members up to 55 days of unpaid leave. It was common practice before the agreement, that paras who did not qualify for FMLA and exhausted their sick time had to quit and reapply for their jobs.
Since reaching out to Council 4 and forming their union during the height of the pandemic last year, Ledyard paraprofessionals have been cohesive and unified in their pursuit of being recognized as valued workers who are essential to the success of their students and school communities.
Local 784 President Kim Hope sees the transition from being a non-union paraprofessional to a union paraprofessional with a contract as a positive development.
"We came together to show our strength," she said. "Realizing our old ways were not opening any new doors, we chose to be a family and with the help of Council 4 and our new contract, Ledyard paraprofessionals are now a WE and stronger for it."
Liz Malone, a 15-year para currently at Gales Ferry School and member of the negotiations committee, is pleased with the accompanying benefits and sees this contract as a first step in a journey for respect.
"I'm excited about us getting our pay increase and two paid holidays," she said. "We've never had paid holidays before. Since this is our first contract, it is a steppingstone for more things to come."
She added, "I'm grateful we have greater protections and that the younger paras have some things that we didn't have before."
Council 4 Staff Representative Tricia Santos was the bargaining unit's advocate during contract negotiations. "This has been a journey for respect. Ledyard paraprofessionals came together not just to improve their wage and living standards, but to protect the quality of the amazing services they provide to Ledyard students. I am extremely blessed to represent this group."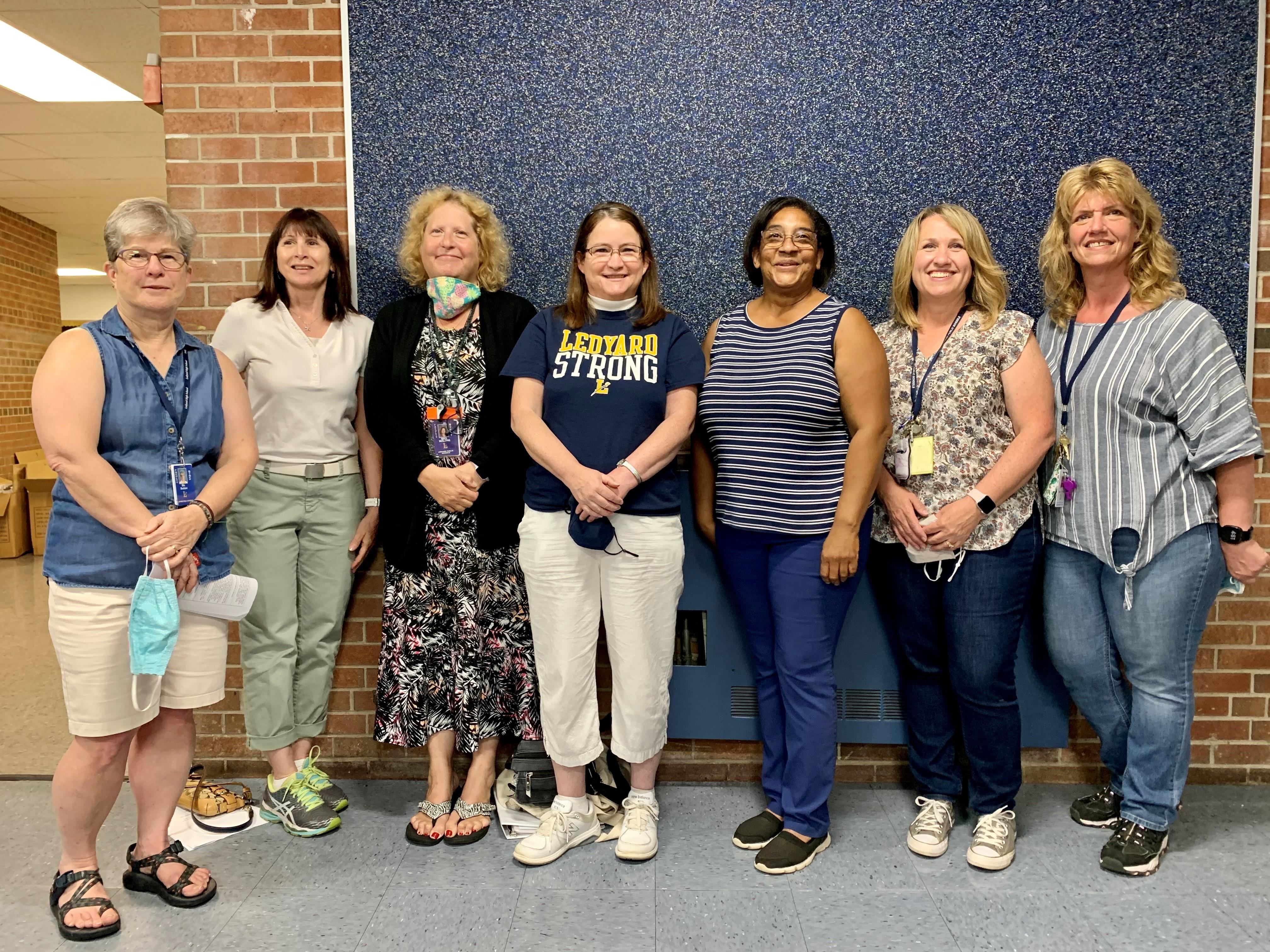 Members of the Negotiations Committee (L-R): Susan Button (Ledyard High School), Lisa Vassallo (Gallup Hill School), Liz Malone (Gales Ferry School), Lori Burton (Gales Ferry), President Kim Hope (Juliet Long School), Vice President Dawn Scanlon (Gales Ferry School), & Secretary Denise Dittrich (Gallup Hill School).